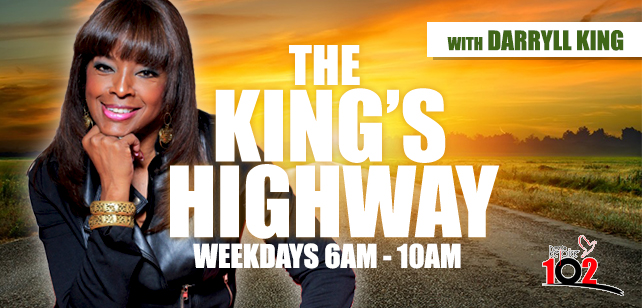 Darryll King is the host on two Crawford Broadcasting Stations, WYCA 102.3 FM and WSRB 106.3 FM. The King's Highway is a four-hour power and praise packed music show with moments of ministry. The show can be heard on WYCA 102.3 FM Monday through Friday from 6:00am to 10:00am and is one of the most listened-to morning drive time shows in the Chicagoland area. Sunday Morning Glory is a six-hour live remote broadcast heard on Soul 106.3 FM Every Sunday from 6am – 12pm
Darryll King and The Soul Patrol Broadcast Live From a Different Church Every Sunday Morning.
The shows feature and is hosted by Darryll King. She is one of the most respected hosts across America as evidenced by her recent accomplishments of receiving "The Gospel Announcer of the Year" honors from the National Stellar Awards in 2004. She was also nominated for the Chicago Hip-Hop Announcer of the Year in 2004. Darryll was also a recipient for the Sisters in the Spirit award in 2005. Darryll was the host of Different Drummers on CBS Television Network for 2 and a half years and she hosts her own television show on Chicago Cable Network Channel 25 entitled The Cutting Edge with Darryll King since 1998. You many find Darryll hosting numerous events in and around the Chicago land area.
Darryll King is intelligent, hard working and energetic, but most of all, she loves the Lord.