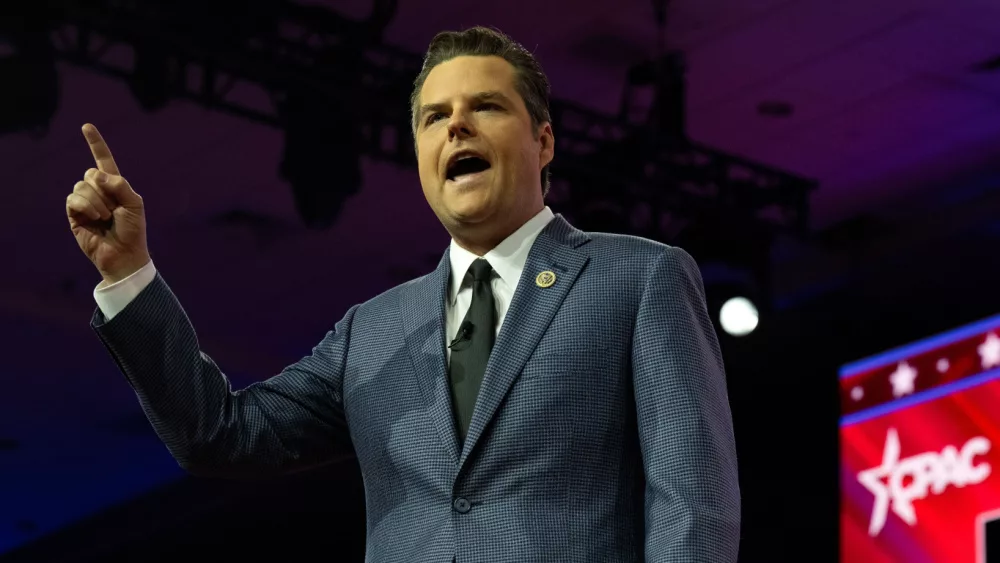 Rep. Matt Gaetz said he will try to remove fellow Republican (and longtime nemesis), House Speaker Kevin McCarthy from his position this week — his statements coming after McCarthy relied on Democratic support to pass legislation that avoided a government shutdown. In response, McCarthy responded: "So be it. Bring it on. Let's get over with it and let's start governing."
Gaetz, R-Fla, said in a broadcast interview: "I think we need to rip off the Band-Aid … I think we need to move on with new leadership that can be trustworthy," adding that McCarthy, R-Calif., was in "brazen, material breach" of agreements he made with House Republicans in January when he ran for speaker. Gaetz said as House rules permit, he would be filing a "motion to vacate the chair."  Procedural votes could be offered to halt the motion or it could trigger a House floor vote on whether McCarthy should remain speaker. No speaker has ever been removed from office through such a move.
Gaetz had threatened to file his ouster motion if McCarthy worked with Democrats; in light of a potential government shutdown, McCarthy pivoted on Saturday to a bill that would draw Democratic support. Democrats jumped at the chance to keep the government open and both chambers passed the bill by overwhelming margins.  While McCarthy has the support of a large majority of House Republicans, he may need votes from some Democrats to keep his job. When Gaetz was asked how many Republicans he had on board to vote McCarthy out, he replied had enough to ensure that if McCarthy retains the speakership he would "be serving at the pleasure of the Democrats … The only way Kevin McCarthy is speaker of the House at the end of this coming week is if Democrats bail him out."
However, Gaetz has received noticeable opposition from many House Republicans. Rep. Mike Lawler, R-N.Y., spoke of Gaetz's "diatribe of delusional thinking" and said Gaetz was acting for "personal, political reasons." McCarthy agree, saying that Gaetz was "more interested in securing TV interviews than doing something." McCarthy added on Sunday that Gaetz would fail and said that Gaetz has been after him since he ran for speaker:  "Yes, I'll survive," McCarthy said.
Editorial credit: Consolidated News Photos / Shutterstock.com