Rejoice In The Afternoon with Deb and Norris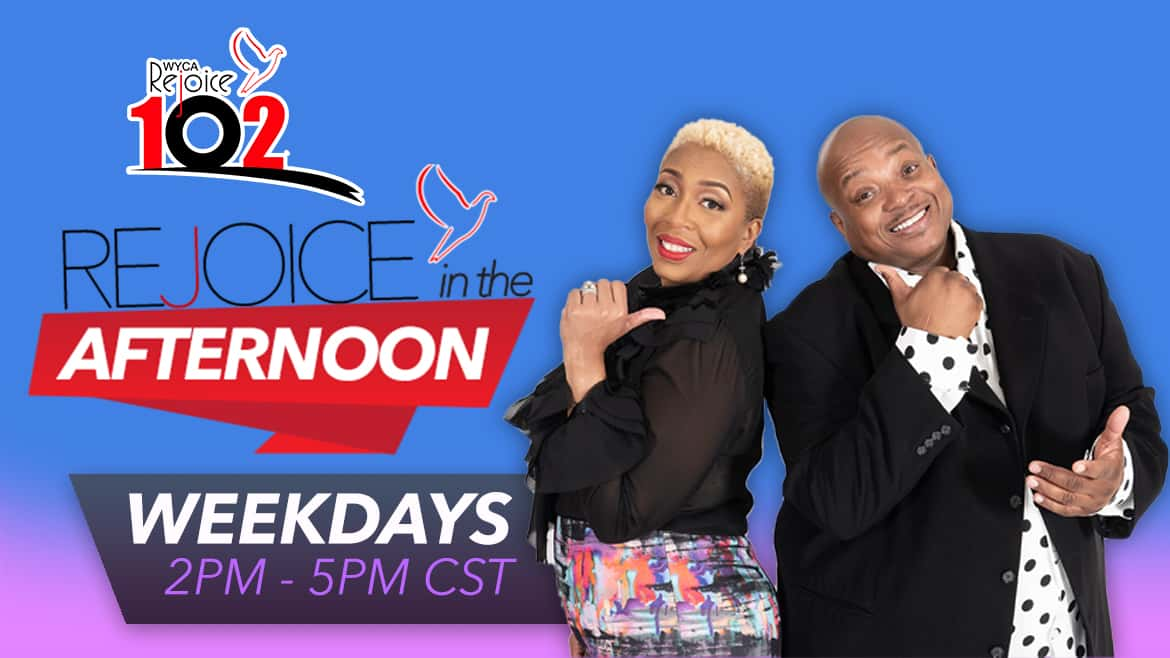 Debra Rhodes Pettigrew
Debra Rhodes Pettigrew walked through the doors of Crawford Broadcasting in 1997 where she began her radio career as a commercial producer.  Her goal was to stay for a year or two, gain some experience and move on to something else.  Instead, Rhodes Pettigrew fell in love with her co-workers and the Crawford environment and has been with the company for more than two decades.  During that time her love for radio grew as did her responsibilities.  She was promoted to Production Manager, Community Affairs Host/Producer, and Program Director for WYCA Rejoice 102.3 FM.  In her role as Program Director she saw a need for an afternoon drive music show and decided to step in and fill the void along with her co-host, Norris "T" Thompson.
After three years of serving in the dual role of Program Director and On-Air Personality, Rhodes Pettigrew decided to devote her time and energy to strictly being on air.  In October of 2019, after twelve years as PD, she stepped down to pursue a career behind the mic, and has not looked back.
Her calm spirit, quick wit, and often funny and sarcastic come-backs with her co-host are what help to make Rejoice In The Afternoon With Deb and Norris a fan favorite on Rejoice 102.3 FM.  Deb and Norris are Stellar Nominated Radio Announcers Of The Year.
Rhodes Pettigrew is also an award-winning author of two novels and the Executive Director for Rhodes Literary Group, a non-profit organization dedicated to helping aspiring authors pursue their literary dreams while helping them become published authors.  RLG also awards scholarships to deserving high school and college students who wish to major in journalism or creative writing.
She loves what she does and prays that the Lord will allow her to help and encourage as many people who are willing to receive her offerings.
Her motto for life is: "The race is not given to the swift nor to the strong, but to he who endures to the end."
Norris Thompson
Norris Thompson is a Singer/Songwriter from Chicago Illinois.  The military Gulf War Veteran started singing professionally as a member of "Total Impact" a Hip-Hop vocal group based in Oakland, CA.  After the group disbanded, Norris moved back to Illinois where he enrolled at Southern Illinois University of Carbondale as a Radio TV student.
During freshmen year, Norris answered the call of God on his life and began writing songs of love, hope and inspiration. Those songs were heard by Dr. Phyllis Johnson, Chair of the Radio TV department who signed Norris at the first artist at the school's Record Label.
A 10 song album was produced and Norris moved back to Chicago to serve as Worship Leader at his parents Church In His Glory Christian Center. (Pastor's Larry & Patricia Street)
In 2008 Norris was hired at Crawford Broadcasting as a Board Operator, where he's currently working full time at Rejoice 102.3 FM as a Board Operator, Producer and Midday Radio Host Monday-Friday from 2-5 PM alongside Program Director Debra Rhodes Pettigrew.
Norris faithfully serves on Ministerial Staff at New Creation Binding & Loosing Ministry International where the Pastor and Founder is NBA mom Jolinda Wade.
Norris is currently working on a second Single due for release September 2018 on Pure Sound Gospel Records. His hit song "Where Would I Be" is currently receiving radio airplay around the country. He is also founder of Just Jesus Ministry and can be found doing community work in and around Chicago. Norris foundation scripture comes from Philippians 4:13. I can do all things through Christ who gives me strength. He signs off the each Radio each evening by saying…In Life You can be pitiful or powerful but you can't be both, Please choose Power for your Life.